Missing Piece provides a comprehensive revenue cycle solution that manages every aspect of the billing and collection process for you. If your practice is just getting started, our industry experts will guide you on best practices to maximize your revenue. If you are an established practice looking to take your business to the next level, partnering with an expert relieves you of the administrative burden of billing, so you can focus on growing your practice.  No matter what stage you are in, our team is here to help, so you can focus on what's important – providing the highest quality patient care.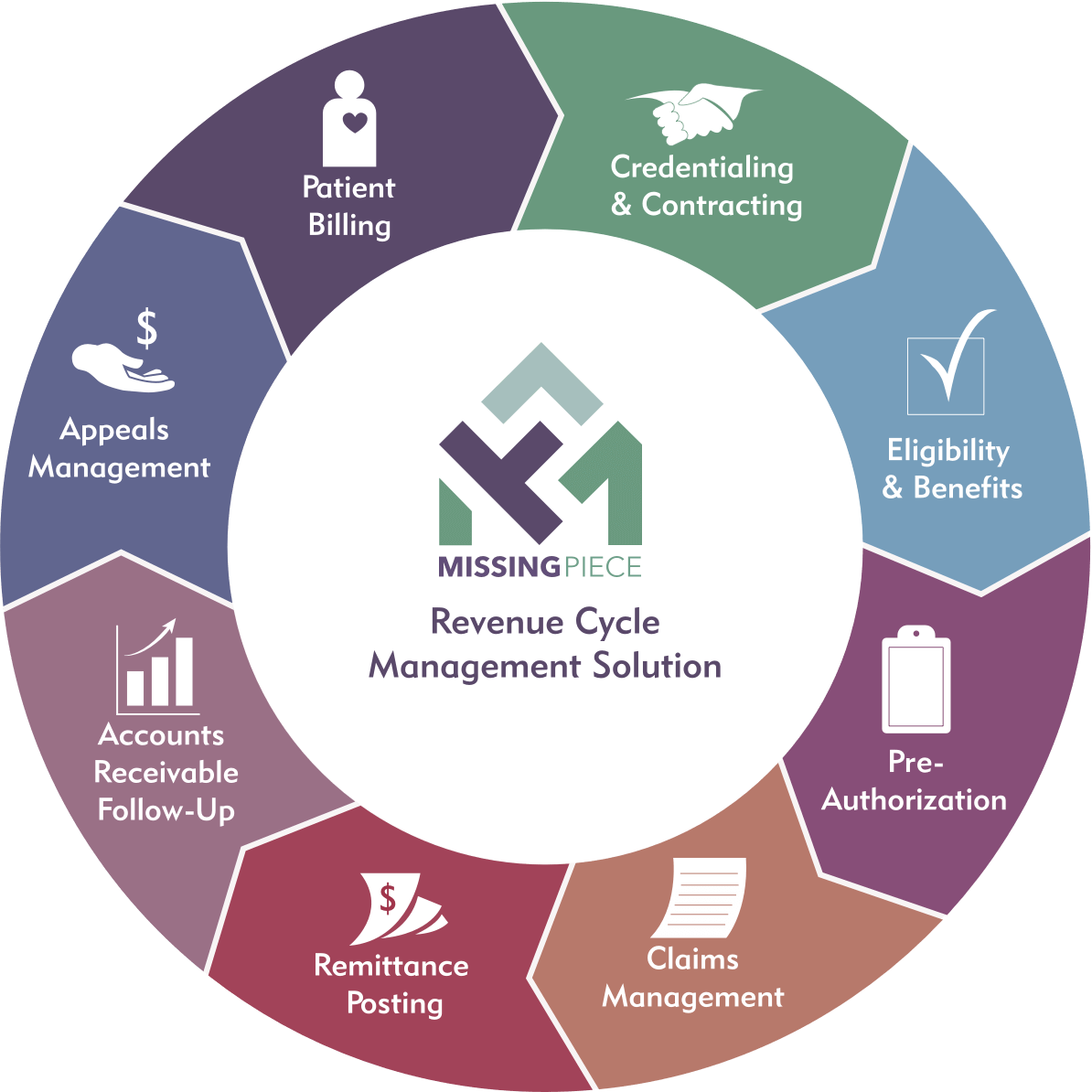 Implementation
We understand implementing a new Revenue Cycle Management (RCM) solution can be overwhelming. Through our years of industry experience, ABA expertise, and unique onboarding processes, our team will lead you through a smooth and easy transition.
We analyze your existing payer contracts and ensure fee schedules and payer enrollments are correctly set up. Additionally, we verify benefits for each of your patients and complete outstanding authorizations. Your billing preferences are configured into our system and documented as standard operating procedures. The Implementation Team ensures all processes are running smoothly before transitioning management of your account to our Operations Team. Together, we will build a lasting partnership starting with a seamless transition.
Credentialing & Contracting
The foundation of a strong revenue cycle process begins with credentialing and contracting of your billing clinicians. Our Contracting Team's strong payer relationships combined with their knowledge of the most up-to-date payer requirements allows you to achieve maximum reimbursement. From submitting required provider profile information to securing accurate discipline contracts, we facilitate the entire process for you.
The Contracting Team provides ongoing management by maintaining your providers' payer profiles, keeping track of re-credentialing requirements, administering regular contracting updates, and ensuring ERA/EFT remain current to ensure payments are correctly assigned.
Eligibility & Benefits
We understand that navigating patient benefits is both challenging and time-consuming. Inaccurate eligibility and benefit quotes can be costly. Our Eligibility Team helps you mitigate the risk by preforming comprehensive eligibility verifications.
Communicating benefit information to patients is important. If you prefer, we will discuss with your patients any financial obligations they can expect, such as deductibles, copays, and out-of-pocket maximums, so you can focus on providing clinical care.
Pre-Authorization
Almost all payers require authorization before services are rendered. An important aspect of this requirement is demonstrating medical necessity. Our team of Authorization specialists understands payer medical necessity requirements and work to obtain authorization for the full recommended treatment.
Authorization specialists provide the following ongoing services:
Managing appeals for authorization denials
Communicating to your providers payer-specific treatment plan guidelines for reimbursement
Tracking authorization usage and expiration dates and obtaining timely re- authorization
Obtaining authorizations for assessments, on-going treatment, and re- authorizations for ABA Therapy, speech, occupational and physical therapy
Claims Management
Timely reimbursement requires claims meet payer billing guidelines. Our team of billing specialists ensure claims meet payer specific guidelines. Our claims processing system maintains up-to-date edits to prevent claim rejections and proactively monitors claim acceptance and processing. Our goal is to minimize the time from when the claim is submitted to when you receive payment.
Remittance Posting
Shortening the revenue cycle requires proactive monitoring. By maximizing electronic payments, we eliminate paper and receive electronic remittance advices (ERAs) and electronic fund transfers (EFTs) to automate remittance posting. This enables us to proactively pursue full reimbursement and investigate exceptions such as non-contractual adjustments, unexpected patient balances and underpayments. Our Remittance team's expertise in understanding payer fee schedules and confusing adjustment codes, ensures that improper adjustments and denials are pursued so you receive reimbursement according to your contracts.
Accounts Receivable Follow-up
Our Accounts Receivable team's payer intelligence enables us to successfully obtain full reimbursement for services billed. At the core of our Revenue Cycle Management Solution is our Accounts Receivable team of billing experts who serve as advocates for you and your patients. This hands-on approach allows ABA providers to collect revenue they might otherwise miss, or simply not have the resources to pursue.
Appeals Management
An appeal may be necessary when an authorization request or a claim is denied in full or in part. Typically, these appeals would require medical necessity rationale to support services. Our team of specialists will determine the payers appeal policy and guide you accordingly.
Our appeal experience and ABA medical necessity knowledge enables us to successfully overturn denials and collect payments that rightfully belong to you. It means you can continue providing quality services to your patients while we fight the battles with payers for your revenue.
Patient Billing
As patients bear more financial responsibility for healthcare costs, patient billing has become an important part of the revenue cycle. Compassion for the patient and family may seem at odds with optimizing reimbursement. Our RCM solution combines a robust process, flexible policies, and technology that provides a convenient and personalized approach to payment that meets both objectives.
We combine best practices with your policies in designing your patient billing process and patient communication protocols, to ensure a positive patient experience that goes above and beyond what you would expect from a billing partner. We offer customized patient statements by mail and email, an online payment portal, and payment plans based on the patient's financial circumstances, providing you the tools to offer flexible billing options, while meeting your revenue cycle goals.
What
Clients
Say..
Like most small businesses, our success is predicated upon personal relationships and a consistent revenue stream.  Since opening, Missing Piece Billing has been a great partner and an essential element of both.  They guided us through the billing and authorization process and took the lead on contracting and patient invoicing, allowing us to focus on serving our families.  As our company has grown from 1 to 100, I can say with great confidence that we would not be where we are today without them.
Engaging Minds Autism Services
Indiana Provider
Missing piece billing has been great to work with. They have been our billing partner for many years now. They have wonderful staff that is very easy to work with, they are helpful and always follow through to help on any requests we have.
Specialized Autism Consultant
Massachusetts Provider
Missing Piece has been providing billing services to Lighthouse Autism Center from 2012, when we first opened our doors, to present day.  They are not just a service provider, but a true "partner" who has contributed to our success over the years.  We highly recommend Missing Piece to those who wish to take their organizations to the next level.
Lighthouse Autism Center
Indiana & Michigan Provider
Missing Piece delivers. Your problems are solved before you even notice, and you benefit from knowledge gained by Missing Piece via other clients' problems even before they are yours to suffer. They are ahead of the game at every turn, be it denials for improperly reviewed claims, contracting issues, or auth utilization, they have you covered. We could not replace their services with ten full time staffers, and they cost far less than that each month.
Child's Play Plus
Indiana Provider
Since starting Circle City ABA, Missing Piece has been a valuable part of our organization's growth. The bright team at Missing Piece provides insight and clarity in navigating the complex world of ABA insurance and creates confidence for our company. We highly recommend Missing Piece and the valuable partnership they bring to their customers.
Circle City ABA
Indiana Provider
Partnering with Missing Piece to handle our insurance and billing needs came at the perfect time for our organization.  Payment and issues with claims consumed a large portion of our week.  Once we started working with the team at Missing Piece, we experienced faster turnaround with payment, billing and authorizations were streamlined, and credentialing couldn't be easier.  Their dedicated team is always there to support our business and has given us back the time to focus on patient care.
The Bedrock Clinic & Research Center, Inc.
New Jersey Provider
We have used Missing Piece Billing and Consulting for many years and are very satisfied with their services and support. Their team is knowledgeable and professional and have been wonderful to work with. We trust their expertise and would highly recommend them for all your ABA billing needs.
Disability and Autism Services of Indiana
Indiana Provider
When we began the process to become a Medicaid and insurance provider, a friend advised us to call Missing Piece for help.  As it turns out, that was the best piece of advice we got in relation to this journey.  The folks at Missing Piece have been there every step of the way, providing us with guidance, support, and taking many hours of work onto their workload.  We are so grateful!
Executive Director
The Bridge of Georgia